Published on and modified on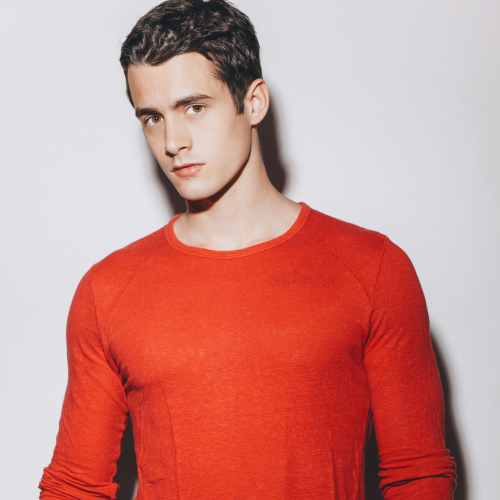 Many of us know Daniele La Leggia (23) from the Italian television series Don Matteo, in which a Catholic priest, Father Matteo, was investigating local crime stories in the town of Gubbio (Perugia). Daniele played the role of Dario in this Rai1 production in 2011-2012.
His big national-level breakthrough in Italy had happened already before Don Matteo in 2010 with the movie Sharm El Sheikh - Un'estate indimenticabile. For two months Daniele was in Egypt together with the leading Italian actors and actresses to shoot this film about an unforgettable summer (trailer).
Path towards movie industry
"I have been very lucky to launch my career as an actor in Italy", says Daniele, who was born and brought up in Rome. "From an early age I had an urge to express myself and I needed an outlet for that. I knew acting was something for me. There are no actors in our family, but as a young boy already I was fascinated about Cinecittà, the largest film studio in Europe located in the outskirts of Rome."
In 2008, Daniele at the age of 15 made an advertisement for the car manufacturer Toyota. This was his first professional assignment and it paved his path into the movie industry. The following year he became one of the hosts on the Italian TV programme Up'n Pop targeting children and teenagers (watch Daniele's audition for the Up'n Pop show).
Hollywood calling
"After the Up'n Pop I started studying acting at Strasberg's. A great turning point in my life at that time was the opportunity given to me by Manuela Metri, a personal friend of Anna Strasberg. Manuela, by chance, was on the spot watching Sharm El Sheikh being produced and she wanted to meet with me. Manuela then decided to grant me a summer scholarship for her acting school in Hollywood. That was a dream come true for me!"
"Once back in Italy after my short stay in Hollywood, I finally got involved in Don Matteo. Although being part of the cast and crew was great fun, I strongly felt I have a mission elsewhere … I wanted to move on in my professional life so badly that at a certain point I then quite abruptly decided to return to Hollywood and leave Italy behind."   
Daniele has been living in Hollywood since 2012. "The beginning in Los Angeles was not easy as I did not speak much English, only Italian", Daniele reveals. "By now I am fluent in English and indeed, I sound pretty American, although I still have a foreign accent of course. Also getting to know the right people and finding sponsors, who believe in what I represent, has been quite demanding and time-consuming. I consider myself fortunate as I have made some really good connections there. All in all, I have managed to establish a solid foundation for my private and professional lives in Hollywood."
It is probably every actor's dream to go to Hollywood, get into the movie business there and then overnight become a film star known worldwide. "It is, though, an extremely competitive arena as there are a million other wannabes from all over the world in Hollywood, who desperately look for an opportunity to become famous", Daniele explains.
Professional aspirations
Daniele, while still waiting for his international breakthrough as an actor, is systematically working on creating a distinctive professional profile and an outstanding reputation for himself in the movie industry.
"I love writing … writing is one of my passions. At the moment I am drafting a screenplay for a movie to be shot in Europe and in the USA. What I have learnt is that writing a movie script is a totally different process than writing a novel. This has been a rewarding learning experience and I am highly optimistic about the film itself."
Daniele is now actively searching for external funding through various channels for financing the movie. "I am even planning to look into what the European Commission could offer in this respect", he summarizes his thoughts around his movie production.
Life in the international movie industry offers great opportunities on the one hand, but on the other hand means constant risk taking. "I am not afraid of competition, but in order to stay strong in the business, I will have to continue expanding my social and professional networks, keep constantly developing myself as an actor and a screenplay author, and create a career management strategy that allows me to be adaptable to changes and challenges", Daniele concludes his views.    
Read also the second part of Daniele's interview.
Text: Mika Launikari based on an interview with Daniele La Leggia (Piazza Navona, Rome, Italy on 19 December 2015)
Photos: Daniele La Leggia