Cultural adaptability - Thessaloniki airport and overweight luggage
Published on • Permalink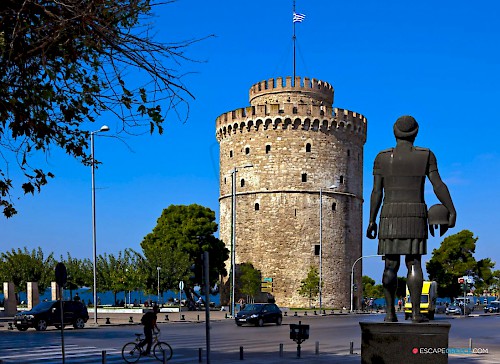 I was living and working for five years (2007-12) in Thessaloniki, a city founded in 315 BC by Cassander of Macedon and located in Northern Greece. Thessaloniki's history spans some 2300 years: the city was an important metropolis by the Roman period as well as the second largest and wealthiest city of the Byzantine Empire. The White Tower is the landmark and symbol of Thessaloniki.
Today Thessaloniki is Greece's second major economic, industrial, commercial and political centre after Athens, and a major transportation hub for the rest of Southeastern Europe. The city is well-known for its festivals, events and vibrant cultural life, and is considered to be Greece's cultural capital.
Thessaloniki is a popular tourist destination in Greece, located only some 100 km away from the Halkidiki peninsula, where you have access to beautiful beaches and lovely local villages. During the years I spent in Greece, I had several family members and friends visiting me there.
Ohlalalaa, my mother's luggage!
Also my mother was a frequent visitor at my place in Thessaloniki. On one of her trips, she had spent a substantial amount of money in the summer sales in Thessaloniki. Her shopping bags contained clothes, shoes, leather bags, food items, and an oriental carpet.
On the day of her departure from Thessaloniki I then lifted her suitcase and instantly realized that she definitely had there more than 20 kg (the amount allowed in the economy class those days), at least some 25 kg. I advised her to take some of the stuff out of the luggage. My mother, stubborn as she is, refused to start unpacking and rearranging her luggage. I was somewhat annoyed because of her attitude, and told her that then we would with great certainty have problems at the airport when her luggage is being weighed.
In the check-in line
Finally, we arrived at the airport and went into the check-in line. As it was high season (August), the small airport of Thessaloniki was packed with people and the check-in clerks did not have much patience with any of the passengers.
While standing in the line, I told my mother that whatever happens at the check-in counter, she should not say anything, not a single word. She should let me handle the situation and let me eventually explain the overweight issue would that become a hot topic there. Then our turn came to hand in the luggage.
The following conversation took place at the check-in counter between me, my mother and the Greek check-in lady:
Mika to the check-in lady: Good afternoon [I lifted my mother's luggage on the chain … the scale showed 28,9kg!]
My mother to check-in lady: Hello! [She gave her passport and flight ticket to the check-in clerk.]
My mother to me in Finnish: Mika, it cannot be true that the luggage weighs so much … there must be something wrong with their scale.
Mika sarcastically: Indeed, mother!
The Greek check-in lady looking my mother into her eyes: Madam, you are travelling in the economy class. Is this correct?
My mother: Yes, that's the case! 
Check-in lady: Hmm … Madam, you have serious overweight with your luggage … we cannot tolerate such a heavy luggage for this type of a ticket that you have. You have to pay for the extra weight!
My mother: ???
Mika to the check-in lady: May I say something here? My mother has been in Greece on holidays for two weeks now and during her stay here we have been visiting our Greek friends in several locations. We have truly enjoyed their friendliness, hospitality and generosity. Now what has happened is that as our Greek friends so much like my mother, they have given her all kinds of presents and souvenirs. And guess where all those items are now! They are in my mother's luggage. So, it is the genuine Greek hospitality that weighs so heavily in her luggage … and sincerely I don't think you possibly can charge anybody for the Greek generosity, can you?
Check-in lady: Hmmm … [Turns to talk to her colleague at the neighbouring check-in counter. Their discussion is in Greek. I cannot properly hear what they say!]   
Mika to his mother: Let's stay totally cool now. Avoid looking nervous at all.
My mother to me: This is going to get really expensive if they make us pay.
Our check-in lady after consulting her colleague: Madam, here is your boarding card with the luggage tag and your passport. The security control is on your right hand side. Have a safe trip! Goodbye!
Mika to the check-in lady: Sas euxaristoume para, para poli! Thank you so much for your great understanding and generosity! Have a nice afternoon!
Mika smiling and saying to his mother: Smile, don't say a word! Now let's get out of here at once before they start regretting and change their minds.
My mother to me once we were far enough from the check-in counter: What did you tell them? I did not quite follow everything you said to the lady.
Mika to his mother:  I had to lie to the poor lady that you had presents from our Greek friends in your luggage, and the Greek generosity was weighing there so heavily. You must know that I am not overly pleased with what just happened, and never ever put me into such a bloody situation anymore. [My mother started laughing out loud!]
A moral dilemma and an ethical concern
By the time of this incident I had been living in Greece for two years. So, I had already discovered various aspects of the Greek culture and I had become pretty well familiar with the mentality of the locals. Without this cultural literacy I would never ever have been able to perform the way I did at the check-in counter. I knew which string to pull, although at the same time I was fully aware that I was taking a huge risk, and that it might all end really badly.
But luckily things worked out amazingly well for us that time. Even if I back then was troubled by the fact that I was telling lies to the check-in lady, I also knew that Greek people sometimes tell stories that are not always exactly truthful. All in all, I was capitalizing on my cultural knowledge of Greece, yet simultaneously being morally challenged by the Finnish cultural framework, where one should not be telling such lies. Maybe this experience at the airport proved that I had established an ability to be culturally adaptable at least in the given context!
Photo: www.escapegreece.com